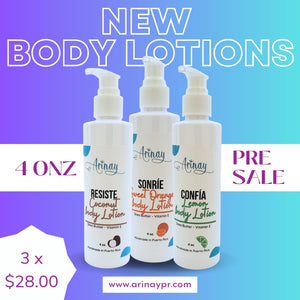 Our Body lotions are just perfect!
Hydrate your skin daily with our natural body lotions. We don't use a premade body lotion. We have made our special lotions from scratch. 
You can choose from Resiste (Coconut Aroma), Sonríe (Sweet Orange Aroma) or Confía (Lemon Aroma) or you can choose the 3 pack! 

Ingredients Key: Grapessed & Almond Oil, Shea Butter. 
Best for: All skin types
Size: 4 onz pump