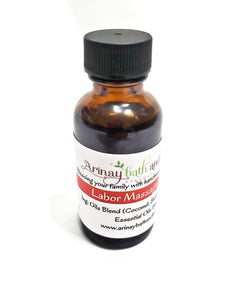 Relaxing during labor can help to ease the pain of contractions. This oil is a perfect addition to your doula or hospital bag. Is a rich blend of essential oils like Sweet Orange and Lemongrass. 
How to use: Put half a teaspoon of Labor Oil on the palm of the hand and massage the lower back, foots, and hands as often as needed during labor or birth and after birth.
No fillers, additives or bases added.  100% free of Pesticides. No fragrances. Not tested on animals. 
For external use only. 
Note: Do not use in early pregnancy. 
Net Weight: 1 oz in a glass bottle