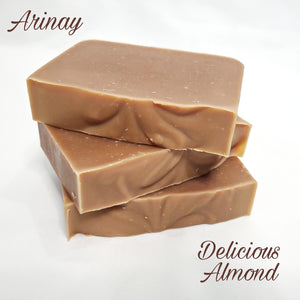 Delicious Almond Cold Process Soap
This is the favorite soap of all times! It smells so good, so delicious.  The sweet and dreamy almond scent will sooth your soul and the lather is so rich, it is amazing! 
Ingredients: Aqua (Water), Coconut Oil, Grapeseed Oil, Olive Oil, Sunflower Oil, Palm Oil, Almond Oil, Kaolin Clay, Fragrance
Best for: All Skin types
You can combines it with the Almond Body Lotion
Our soap is hand cut and hand-packaged so slight variation will occur from batch to batch. Soap sizes range from 4 - 4.5 oz. 

Note** Natural soaps are high in glycerin and softer than store bought soap, in order to make your soap last longer, do not allow soap to sit in water. Allow it to dry out between uses.
No animal Test. Vegan
Love Almond Soap
Excellent, smooth scent, great moisturizer and cleanser.
Its one of my favorites soap
The almond soap is rich in softness, cool and a good fragrance. Recommend it 100%. Thanks
No entiendo este mensaje. Llegó todo bien. Gracias