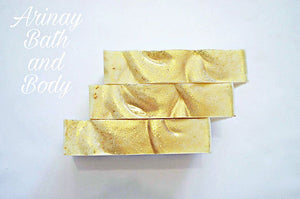 Hadassa Cold Process Soap
This is part of our Soap with a Purpose Collection. 
It represents a crown from a beautiful Queen name Hadassa or Esther in the Bible. This crown soaps represents first, that you are like a Queen. Never let anybody to tell you that you can't, that you are not deserve.

Second, it represents Victory. Victory through difficult times. Victory when you pray. 

Have a scent with a touch of Myrrh & Orange Essential Oils. 

Ingredients: Aqua (Water), Olive Oil, Coconut Oil, Sunflower Oil, GrapeSeed Oil, Palm Oil, Castor Oil, Cocoa Butter, Shea Butter, Essential Oils, Mica Powder

Best for: All skin types
♡♡♡♡♡♡♡♡♡♡♡♡♡♡♡♡♡♡♡
Representa una corona de una reina (por eso su color oro) la reina Ester en la biblia. Si lees su historia veras que su vida no fue fácil, era húerfana, pero creía en el poder del ayuno y la oración. Y esto la llevo a obtener la victoria y salvar a todo un pueblo. 
No importa las situaciones que tu hayas vivido, eres una reina amada y escogida por Dios. Mantente firme y todas tus preocupaciones y cargas entregaselas a Dios. El te dará la Victoria.
Su aroma, una rica mezcla de aceites esenciales con Mirra. Esta inspirado en los tratamientos de belleza que por 6 meses ella, Ester o Hadassa, tuvo que pasar antes de ser reina. Uno de esos aceites fue el aceite esencial de Mirra. 
♡♡♡♡♡♡♡♡♡♡♡♡♡♡♡♡♡♡♡♡♡
Our soap is hand cut and hand-packaged so slight variation will occur from batch to batch. Soap sizes range from 4 -4.5 oz. 
Note** Natural soaps are high in glycerin and softer than store bought soap, in order to make your soap last longer, do not allow soap to sit in water. Allow it to dry out between uses.
No animal Test. Vegan
Me encantaron los janobes soy de piel seca debido a mi diabetes y con ellos me he sentido la piel más hidratada .Gracias Arinay
El olor está terriblemente bueno
Este jabón es uno de mis favoritos, el olor está buenísimo.
Mi favorito!
Es hermoso, huele bien rico, y ha sido excelente para mi piel.