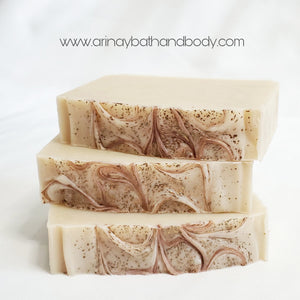 Resiste (Dont' Give Up) Cold Process Soap 
This is part of our Soap with a Purpose Collection. 
His name Resiste or Don't Give Up tells us that we need to persist as the Coconut palms. In a storm they move from one side to other but they don't break. In represent of that in our lives, this soap has Coconut scent to rembember you to don't give up, to persist no matter in what lifestorm you are. Be strong. Be brave. Trust in God. You can do it. 
Have a delicious scent of Coconut. 
Ingredients:

 
Aqua (Water), Olive Oil, Coconut Oil, Sunflower Oil, GrapeSeed Oil, Palm Oil, Castor Oil, Cocoa Butter, Shea Butter, Fragrance, Mica Powder
Best for:

 
All skin types
Our soap is hand cut and hand-packaged so slight variation will occur from batch to batch. Soap sizes range from 4 -4.5 oz. 

Note** Natural soaps are high in glycerin and softer than store bought soap, in order to make your soap last longer, do not allow soap to sit in water. Allow it to dry out between uses.
No animal Test. Vegan.
Me encanta el olor agradable de este jabón.