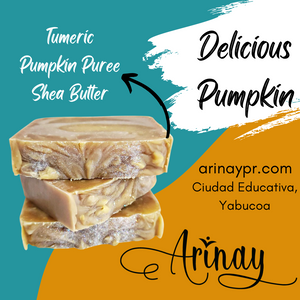 Creamy Pumpking Handmade Soap
One of the favorites soaps of our collections! 
Key Ingredient: Tumeric & fresh Pumpkin 
 Ingredients: Aqua, Saponified oils ( Coconut, Palm, Olive, Castor, Sunflower) Organic Shea & Cocoa Butters, Fresh Pumpkin, Tumeric, Fragrance
It scents is sweet and delicious. 
Our soap is hand cut and hand-packaged so slight variation will occur from batch to batch. Soap sizes range from 4 -4.5 oz. 

Note** Natural soaps are high in glycerin and softer than store bought soap, in order to make your soap last longer, do not allow soap to sit in water. Allow it to dry out between uses.
No animal Test. Vegan
Simplemente, Me encanta!!
Suave en la piel y la fragancia justa para disfrutártelo.
Excelente
Los mejores jabones que hay, desde el aroma hasta la suavidad! 100% recomendado
Creamy pumpkin
I love the soaps because they are made healthy, i love pumpkin, almonds and all the flavor that you guys made them.I feel that they are done with care and conscious of the ingredients added.I like the freshness and i feel clean when i use them.Good products.
Me encanto
El olor súper rico y se siente muy bien. Recomendado 100%