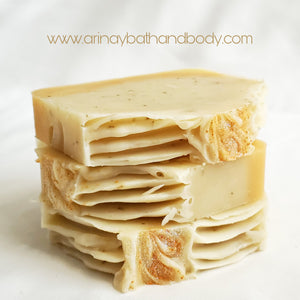 Sonríe Soap
Key ingredient: Sweet Orange Essential Oil
♡♡♡♡♡♡♡♡♡♡♡♡♡♡♡♡♡
Sonríe es parte de un trío especial junto al Confía y Resiste. 
Estos 3 jabones están inspirados en los campos de Puerto Rico donde cosechamos chinas, cocos, limones y otra gran variedad de frutas y verduras. Inspirado en mi Humacao, Puerto Rico. 
Sonríe porque hoy hay chinas (Naranjas) bien dulces y sabrosas! (Por eso su aroma) Sonríe quiere recordarte que cada día sonrias, que seas feluz aún en medio de dificultades. Encuentra la belleza en todo lo que te rodea. Sonríe, se amable, no sabes a quien puedes impactar y ser de bendición.
♡♡♡♡♡♡♡♡♡♡♡♡♡♡♡♡♡♡♡♡♡
Our soap is hand cut and hand-packaged so slight variation will occur from batch to batch. Soap sizes range from 4 -4.5 oz. 
Note** Natural soaps are high in glycerin and softer than store bought soap, in order to make your soap last longer, do not allow soap to sit in water. Allow it to dry out between uses.
No animal Test. Vegan